IKO Super Shed Felt is a longer-lasting, polyester reinforced felt which comes in green and black, and is available in 8 or 10 metre rolls. This durable waterproofing membrane has a life expectancy of up to 15 years, depending on usage and conditions.
Step 1
To get started, make sure to delicately remove any existing timber fascia boards applied to the front, back and sides of your shed. Being careful is key here.
Step 2
Use a solid hammer to remove the nails holding down the old felt roof, then strip the old felt. Make sure the surface is free and dry. If you notice any nails that are sticking out or missing, please replace them carefully.
Step 3 
You will need enough felt to cover the entire area of the roof with a little extra on each edge, around 2 inches as this allows for overlaps.
You will need to cut three pieces of felt. Two pieces for each side of the pitched roof, and a third piece that will overlay the two side sections on each side and run along the top ridge of the shed.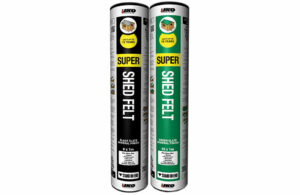 Step 4
Apply the cut felt to either side of the roof stretching it tight so that it lies flat before nailing it at around 10cm intervals along the length of the roof, just below the apex.
You can hammer in the nails along the bottom edge of the roof at wider intervals, around one every 30cm.
Once you've secured the side panels in place, add the top section to the ridge and fix it using high performance felt adhesive applied with a paintbrush, then hammer it at the lower edge at 5cm intervals.
Step 5 
Tidy up the overlap at each edge by folding it down and nailing it securely. Use your craft knife to cut a slit in the felt overhang at the apex of the roof, then fold the felt down there and nail securely at 10cm intervals along the gable. Use wood nails to fasten them in place and your craft knife to trim away any excess material.
Step 6
Finally, work along the sides of the shed, tucking the felt overhang up and under and hammering in nails to hold it in place.