Wonder Wipes
Across the building and roofing industry, Wonder Wipes are considered to be the best of the best when it comes to cleaning wipes. These wipes are anti-bacterial and help clean surfaces, hands, and tools to ensure health and safety in a working environment. Moreover, they can be used on internal and exterior projects and are perfect if there is no water on-site as they contain moisture. Our range of wonder wipse come in many forms including in tubs of 75 wipes, 500 wipes, and the most popular tub of 100 wipes. For those looking for something sprayable, we also have the multi-use wonder wipes spray which comes in a 1 litre size. You can shop the range below, but if you can't find exactly what you need, please contact us and we'll be happy to help and advise further.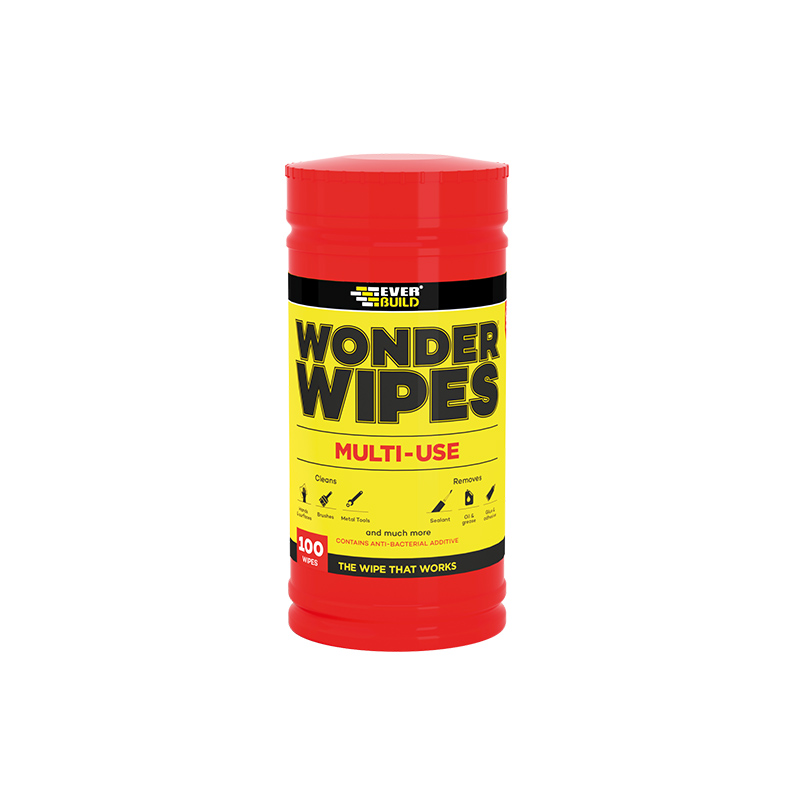 Frequently Asked Questions
Do the wipes contain alcohol?
Wonder Wipes holds an anti-bacterial additive tested by an independent laboratory to BSEN 1276 for chemical disinfectants and antiseptics.
We'd highly recommend using the product on a small surface before applying it fully due to the risks of potential reactions on skin or material.
Can I use these wipes for my tools?
Yes, these wipes are great for cleaning metal tools and brushes. However, we would not recommend cleaning untreated wood with Wonder Wipes as it can damage it. We'd recommend wiping the tools with soft fabric after using the multi-use wipes to remove any moisture that could damage its mechanism or cause a health and safety problem.
Do Wonder Wipes remove paint?
Yes, they can remove paint smears and oil stains. However, if you're trying to remove dried paint or something more substantial, we'd recommend using something stronger and direct. Typically, anti-bacterial wipes should be used on your hands or tools to remove any paint stains that occur within close time proximity — before anything has thoroughly dried.
Are cleaning wipes good for my skin?
Wonder Wipes are great for cleaning dangerous chemicals from your skin but should be used sparingly and washed off with water afterwards if possible. We'd also recommend using moisturisers or skin creams, especially if you have sensitive or damaged skin, as your skin may lose the natural Sebum produced by your body when after using wipes.
Can you use Wonder Wipes for stainless steel?
Yes, Wonder Wipes can be used on stainless steel such as bathroom and kitchen appliances and products. This includes bathtubs and kitchen sinks.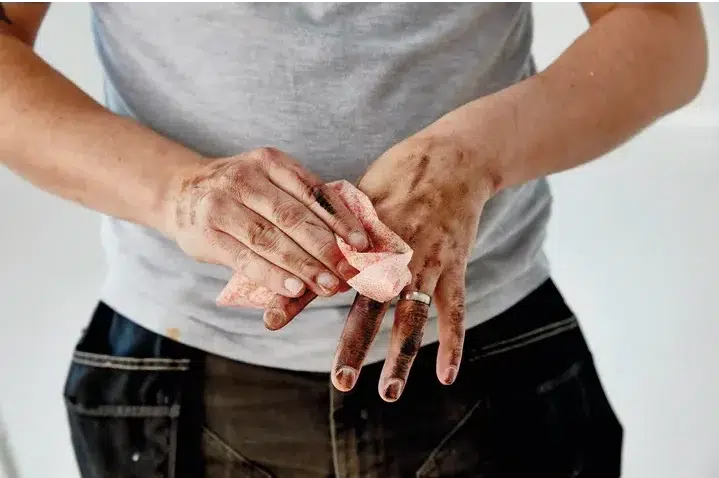 How to use Wonder Wipes
Wonder Wipes are a straightforward product to use, as they come in two forms: wipes and spray. Please use the short guide below to get most out of them.
Wonder Wipes are an impressive cleaning product produced by Everbuild. It serves to help clean equipment and materials of unsightly and obstructive stains like grime, oil, and silicone. It's even anti-bacterial. 
Wonder Wipe Fluid is a powerful detergent. This means that you should be careful if you're allergic to detergents or have damaged or broken skin. You can use safety gloves if you want to keep your hands away from the wipes.
How to use
In order to use wonder wipes, first you need to prepare the tub. Remove the lid and open the small hole on it. Now you can start taking out some of the wonder wipes, starting from the middle. Thread some through the hole in the lid, before closing the lids over the wipes and screwing the lid back on. This will let you pull out the others and tear them off like a roll of floss.  
Now you can just use the wipe to wipe down any material or tool you wish to clean. 
Wonder Wipes is also available in a spray form. This spray contains the fluid the wipes use. What makes this spray useful is that you can test it on a tiny portion of the material first. This lets you check to see if the spray is working, whether it is ineffective, or if it might damage the material. Some materials like unvarnished, unlacquered wood are not suitable for wonder wipes. In general anything that is very porous is not a good matchup for Wonder Wipes. 
To use the spray, just spray it and then rub down the material with thick paper wipes, such as kitchen roll or a microfibre cloth.
Getting the most out of the Wipes
Wonder Wipes can have their lifetime prolonged by adding more Wonder Wipe liquid to them. You can do this in three ways, all with aid of the spray. Firstly, for particularly resilient stains you can spray the fluid first and then scrub with the wipe, like a window cleaner. Secondly you can spray directly on the wipe, refreshing it as it reabsorbs some fluid. Finally, you can spray into the tub itself, especially if it was purchased some time ago. Simply unscrew the lid, spray some in, then rescrew the lid.