Everbuild 206 Strike Release Oil – 5 Litre
EVERBUILD® 206 Strike Release Oil is a high quality chemical release agent to enable concrete shuttering to be removed easily, leaving the edge of the concrete structure clean and well formed. It is a solvent and mineral oil free emulsion based on biological degradable synthetic oil and is recommended for spray, brush or roller application to moulds manufactured from wood, metal, polypropylene, ABS, polyurethane and other plastics which are susceptible to long term damage by conventional release agents. Produces a high quality stain and blemish free concrete finish with minimum incidence of blowholes.
As a release agent for smooth non-absorbent formwork, absorbent formwork, heated formwork (up to 70°C) and textured formwork.
Additional information
| | |
| --- | --- |
| Product Type | Building Supplies |
Brand
Everbuild
Everbuild is the UK's leading sealant, adhesive and building chemicals brand that has a trusted name amongst the trade and DIY enthusiasts. From simple house fixes to more complex projects, Everbuild's range will be there for your needs.
Range of Everbuild Products
Everbuild have a phenomenal range of products, and we at ERoofing are proud to stock them. We have the popular 905 all-weather coatings, a full-bodied black brushable bitumen compound with added fibres for reinforcement among the vast range. Further, we have 901 Black Bitumen Paint to the 908 DPM, an odourless rubber enriched bitumen emulsion. Moreover, we stock a range of quality sealants for any DIY house project, including Everflex, Bath & Kitchen sealant, and external frame sealant.
Free Delivery on Everbuild Products
If you spend more than £10 on your order, you'll automatically qualify for free shipping on Everbuild products. This offer includes sealants, paints, glue adhesives, and others.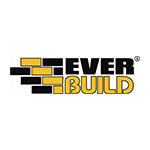 | | |
| --- | --- |
| Product Type | Building Supplies |